Why Hoosier! We care and give a low price guarantee!
Earn 2% Reward Points and get Free Shipping on all orders over $1000.00
Free Tech Support and access to our FTP site for Free
Options to order:
Website Shopping Cart www.hebusa.com
Email us at pat@hebusa.com
Call us at 800-408-0059
FXII and MP5000 Free Activation with any order over $1000.00 at time of order!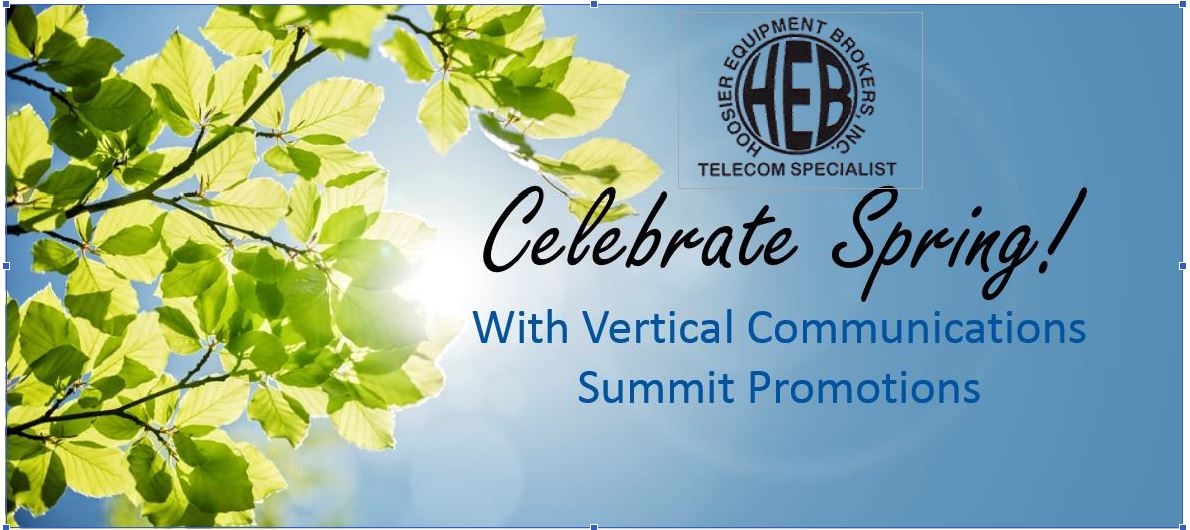 Vertical Offers 4 Separate Promos Worth Celebrating!
Celebrate spring with four special promotions on the Vertical Summit family of products. We?ve set you up for savings with no forms or special conditions. Now through June 30th, 2019, choose your promo offer and save.
1. Purchase a Summit bundle from the included list and get a phone for FREE.
2. Purchase a Summit 800 package (from the included list) at a discounted price.
3. Earn a point for every dollar you spend on Vertical Summit and Summit 800 then use your points and get a free Summit system package, or phones, plus 10% discount on all licenses.
4. Purchase seven (7) Edge 9820 IP phones and get three (3) additional same-model phones for FREE.
Promotion Terms & Conditions
Promotion available to all certified Vertical Summit dealers.
Offer valid on all orders for promotional part numbers as stated above placed and shipped from dealer?s distributor between April 1, 2019 and June 30, 2019.
Proof of purchase of Vertical Summit? and Summit 800 product required to qualify. Fax invoice to Kathy Budrick at 480-374-8851 or email mailto:kbudrick@vertical.com. Please indicate the phone model that you would like to receive as part of this promotion in your fax or email.
Please submit your total points at the end of the promotion period with a copy of your invoices to get the free product. Proof of purchase is required to qualify.
All invoices must be submitted before July 15, 2019 to qualify for the promotion.