Quick and easy to set up, the Vertical SBX the scalability to accommodate up to 48 users and lets you network up to 72 sites. Thousands of small businesses worldwide already enjoy SBX IP's big- business benefits, such as:

Uniform call distribution, including call center functionality, agent wrap-up and supervisor functions
Hands-free Park and Page to hold calls while paging the recipient, rather than directly going to voicemail or utilizing the receptionist
Multi-party conferencing for up to three groups and/or 15 parties
Multiple tenant groups so you can partition groups by department
Optional voicemail with integrated auto attendant for professional greetings
Softphone capability lets mobile workers use a PC as a full-featured phone
Hot desking
Web-based Active X phone client
XTS digital phone support
Linked pairs allows a station to pair with another station and appear as a single extension number (SBX IP supports up to 13 pairs)
EZphone desktop call manager lets users power dial, manage conference calls and simply double-click to call a contact
One-touch call recording for more accurate customer orders, compliance initiatives and training
Availability of door box with call button for office/warehouse/residential applications
CTI with Microsoft® Outlook™ address book integration (via EZphone application)
Simple system administration via PC software, digital phone, modem, or LAN
Detailed SMDR reporting integrates with accounting and other management applications
VoIP ( SIP) trunking reduces expenses and provides flexibility
Easily network with Vertical MBX IP platforms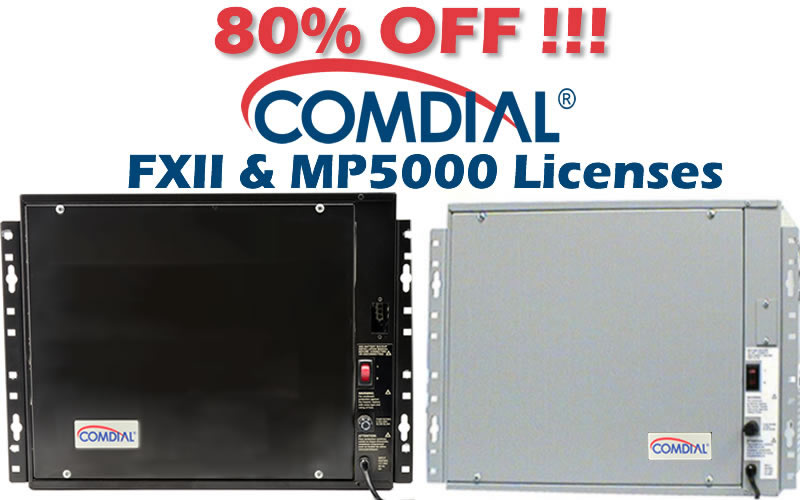 Now until June 30th
Spring Means Green!
Save More With Hoosier Equipment Brokers
Spring Summit Promotion
20% Off of SBX Products
Free Certification Training
Free Shipping on orders of $1000.00
2% Reward Points at Hebusa.com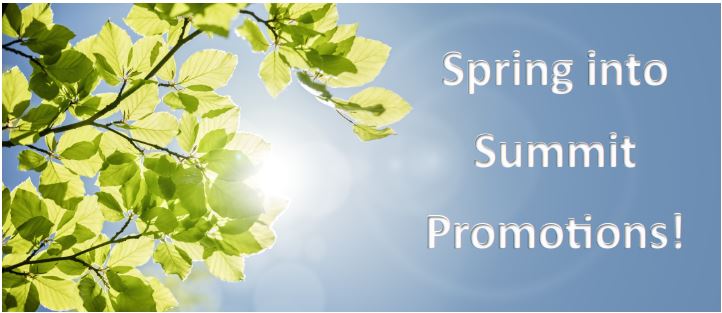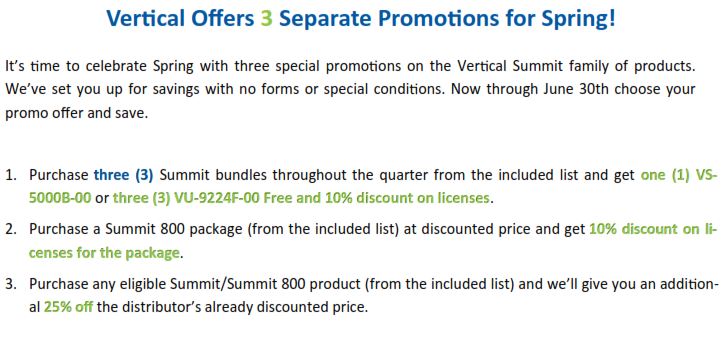 Promotion Terms Conditions
Promotion available to all certified Vertical Summit dealers.
Offer valid on all orders for promotional part numbers as stated above placed and shipped from dealer's distributor between April 1, 2018 and June 30, 2018.
Proof of purchase of Vertical Summit™ and Summit 800 product required to qualify. Fax invoice to Kathy Budrick at 480-374-8851 or email kbudrick@vertical.com. Please indicate the phone model that you would like to receive as part of this promotion in your fax or email.
to read complete details for this promotion click here!
© 2018 Vertical Communications, Inc. All rights reserved. Vertical Communications and the Vertical Communications logo and combinations thereof, Wave IP, Vertical Summit, and SBX IP, are registered trademarks of Vertical Communications, Inc. All other brand and product names are used for identification only and are the property of their respective holders.

| Part Number | Description |
| --- | --- |
| | Basic KSU 4COx8Dx4S, 4port 16hr VM with 8 9224-00 HD 24-Button Phones |
| | Basic KSU 4COx8Dx4S, 4port 16hr VM with 3 9224-00 HD 24-Button Phones |
| | Basic KSU 0COx8Dx4S, 4port 16hr VM, 1 PRI Interface Card |
| | Basic KSU 4COx8Dx4S, 4port 16hr VM with (3) 24 button 9224F phones FD |
| | Basic KSU 4COx8Dx4S, 4port 16hr VM with (8) 24-button 9224F phones FD |
| | Basic KSU 4COx8Dx4S, 4port 1hr VM with (3) 24 button 9224F Phones FD |
| | Basic 4COx8Dx4S, Eight 9224F 24 button PKG; 4Cox8Dx4S 4port 1hr VM, (8) Edge 9224F 24 Btn Phones FD |
| | Basic KSU 4COx8Dx4S, Eight 9224 24Btn PKG: 4COx8Dx4S 4port 1hr VM, (8) Edge 9224 24-Button Digital Phones |

| Part Number | Description |
| --- | --- |
| | 10 Button IP Phone w/LCD PoE LLDP-MED / 802.1x security s |

| Part Number | Description |
| --- | --- |
| | Summit 800 VoIB Port $1400 |
| | Summit 800 DTIB Pkg BKSU/PSU/LCOB12/DTIB24/MPB 6 ea D+S $1600 |
| | Summit 800 SLIB Pkg BKSU/PSU/LCOB12/SLIB24/MPB 6 ea D+S $1600 |
| | Summit 800 PRI Pkg BKSU/PSU/PRIB/MPB 6 ea D+S $1800 |

Part Number
Description
19" Rack Mount Bracket
Basic KSU (BKSUIDPKG) 0COx8Dx4S, 4 Port 16hr VM, 2 VoIP Ch
Modem Unit (MODU)
Spare Battery for Summit DECT Handset
DECT Base Station
Channel DECT Interface Board
Expansion KSU 4 COx8H
PRI Interface Board
Edge 9200 48 Button DSS
Edge 9800 24 Button DSS (vip-9820/9830, VU-9224/9240)
Universal 48 Button DSS
Edge 9800 24 Button DSS (vip-9820/9830, VU-9224/9240)
4 Port DECT Interface Board (WTIB4)
8 Port DECT Interface Board (WTIB8)
Summit 800 IP WIFI Handset
Wall Mount Bracket for KSU
Summit 800 Expansion KSU
Voice Mail Interface Board (VMIB)
4 LCO Interface Board (LCOB4)
8 LCO Interface Board (LCOB8)
12 LCO Interface Board (LCOB12)
12 DKT Interface Board (DTIB12
12 SLT Interface Board (SLIB12)
Summit 800 VOIB 24 Port