Fall Into Summit Savings


It's time to feast on savings with four special promotions on the Vertical Summit family of products. We've set you
up for a feast with no forms or special conditions. Now through December 31st, choose your promo offer and save.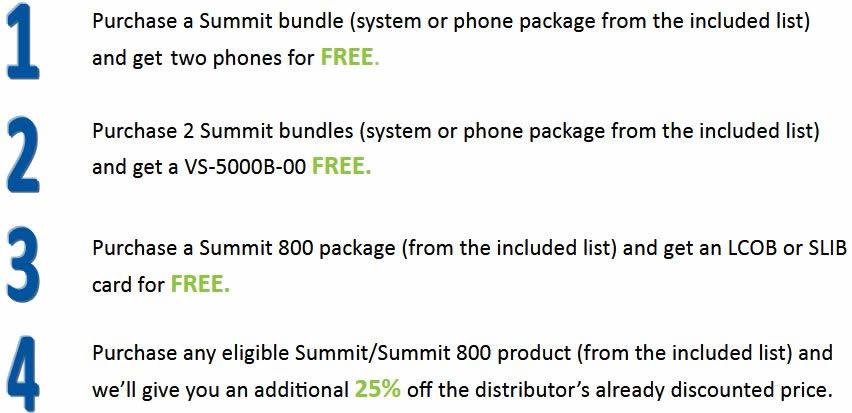 Promotion Terms & Conditions
Promotion available to all certified Vertical Summit dealers.
Offer valid on all orders for promotional part numbers as stated above placed and shipped from dealer's distributor between
October 1st, 2017
and
December 31, 2017.
Proof of purchase of Vertical Summit and Summit 800 product required to qualify. Fax invoice to Kathy Budrick at
480-374-8851
or email
kbudrick@vertical.com
Please indicate the phone model that you would like to receive as part of this promotion in your fax or email.

| Part Number | Description |
| --- | --- |
| VS-5000-8VU24 | Basic KSU 4COx8Dx4S, 4port 16hr VM with 8 9224-00 HD 24-Button Phones |
| VS-5000-3VU24 | Basic KSU 4COx8Dx4S, 4port 16hr VM with 3 9224-00 HD 24-Button Phones |
| VS-5000-3VU8 | Basic KSU 4COx8Dx4S, 4port 16hr VM with 3 9208-00 HD 8-Button Phones |
| VS-5000-3E8B | Basic KSU 4COx8Dx4S, 4port 16hr VM with 3 Edge 700 8-Button Phones |
| VS-5000-3E24B | Basic KSU 4COx8Dx4S, 4port 16hr VM with 3 Edge 700 24-Button Phones |
| VS-5000-816 | Basic KSU 4COx8Dx4S, 4port 16hr VM with 1 4COx8H Expansion Board |
| VS-5001-PRI | Basic KSU 0COx8Dx4S, 4port 16hr VM, 1 PRI Interface Card |
| VS-5000-3VU24F | Basic KSU 4COx8Dx4S, 4port 16hr VM with (3) 24 button 9224F phones FD |
| VS-5000-8VU24F | Basic KSU 4COx8Dx4S, 4port 16hr VM with (8) 24-button 9224F phones FD |
| VS-5000B-3VU24F | Basic KSU 4COx8Dx4S, 4port 1hr VM with (3) 24 button 9224F Phones FD |
| VS-5000B-3VU8 | BBasic KSU 4COx8Dx4S, 4port 9208 PKG 1 Hr VM: 4COx8Dx4S 4port 1hR VM & (3) Edge 9208 8 Btn Digital Phones |
| VS-5000B-8VU24F | Basic 4COx8Dx4S, Eight 9224F 24 button PKG; 4Cox8Dx4S 4port 1hr VM, (8) Edge 9224F 24 Btn Phones FD |
| VS-5000B-8VU24 | Basic KSU 4COx8Dx4S, Eight 9224 24Btn PKG: 4COx8Dx4S 4port 1hr VM, (8) Edge 9224 24-Button Digital Phones |


| Part Number | Description |
| --- | --- |
| VIP-9002-00 | 4 Button IP Phone w/LCD PoE LLDP-MED / 802.1x security support |
| VIP-9820-00 | 10 Button IP Phone w/LCD PoE LLDP-MED / 802.1x security support |
| VIP-9830-00 | 24 Button IP Phone w/LCD PoE LLDP-MED / 802.1x security support |

| Part Number | Description |
| --- | --- |
| VS-5591-DTIB | Summit 800 DTIB Pkg BKSU/PSU/LCOB12/DTIB24/MPB 6 ea D+S |
| VS-5591-SLIB | Summit 800 SLIB Pkg BKSU/PSU/LCOB12/SLIB24/MPB 6 ea D+S |
| VS-5591-PRI | Summit 800 PRI Pkg BKSU/PSU/PRIB/MPB 6 ea D+S |